Best app for SMS forwarding
Sometimes we need to forward the SMS we receive to another phone number. SMS (Short Message Service) is still one of the most common ways of communication even if it lost some ground to the Internet platforms such as Facebook Messenger, Whatsapp, Viber, iMessage etc.
If you're asking yourselves why you should need an app to forward text messages (SMS messages) one reason would be in case we own two mobile phones (work and personal). Using 2 mobile phones cand be uncomfortable sometimes but we can solve this by using forwarding options. Call forwarding can be done easily from the menu or from the network by our mobile operator. Best thing about call forwarding is that it can be done even if the phone is turned off. Unfortunately, this does not apply to forwarding SMS messages as the phone needs to be turned on for this.
In order to find the best way to forward SMS messages we tested several Google Play apps but only one was found best fit to easily satisfy the purpose for which it was developed. The app we will talk about is SMS Auto Reply and Forward and it is free. During our tests we saw it does not easily run down battery and it does not need high resources to be used. All you need to do is to enable the SMS forwarding option from the menu and to type in the phone number where you want the SMS messages to be forwarded.
Here are the steps to install and configure the SMS forwarding app, SMS Auto Reply and Forward:
Search and install the SMS Auto Reply and Forward app from Google Play (Android Market);
Open the app and allow it the permissions needed as it can be seen in the image below (I can't really tell why it needs location services but I've moved past this)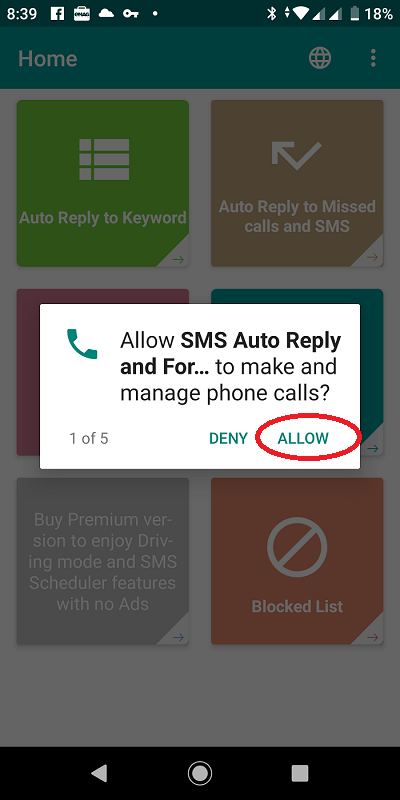 3. After we allowed the permissions, select Settings and check the last option Enable SMS forwarding;
4. After we have enabled the SMS forwarding option we need to type in the mobile number where we want the SMS messages to be forwarded. For this we need to select SMS Forwarding, type in the mobile number and press Save;
Best app for SMS forwarding
This app have other useful options such as forwarding SMS messages to an e-mail address, autoreply based on keywords, autoanswer for certain calls, call forwarding, etc. In regard to rating, this app has 4 out of 5 stars from 1000 reviews.
If you know/use another app for SMS message forwarding or if you encounter problems using the SMS Auto Reply app, please leave a message.
Update 01.04.2020: The app described in this article is no longer available on store, you can try SMS Forwarder: Messaging and More;