Install Android on ESXi (VMware)
Install Android on ESXi (VMware) – In this tutorial we will install Android OS for smartphones and tablets on a ESXi virtual machine. Installing this mobile operating system is not as easy as we expected it to be so we will elaborate how this can be done.
These are the steps which need to be followed:
Prepare the virtual machine:
In order to install Android on our virtual machine we need the following requirements:
Storage; It's preferred to use SSD but HDD works also; Storage space on drive doesn't matter, this will be seen on Android; We will need minimum 4GB (thick Provision Lazy Zeroed, IDE);
Virtual machine version needs to be minimum 11;
Guest operating system: Other (64Bit);
CPU: 2 CPUs recommended;
RAM: 2GB RAM recommended;
Network: Default;
SCSI Controller: LSI Logic Parellel (default);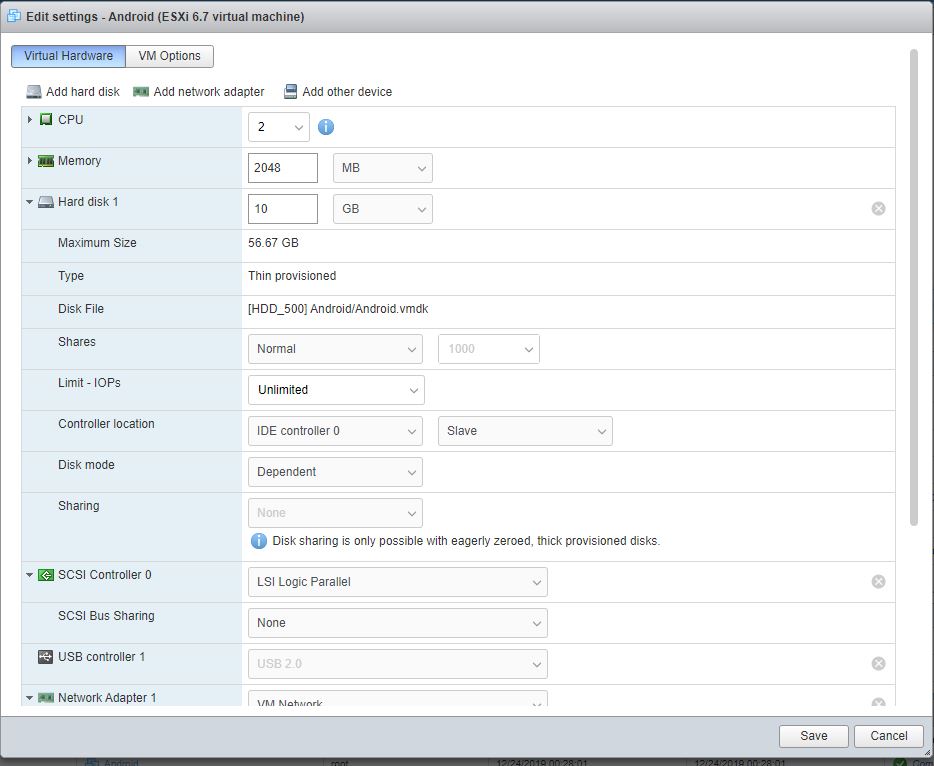 After we have finished configuring the virtual machine we will have to download from here the Android image.
Install Android on ESXi (VMware)
After we turn on the VM, we need to proceed as follows:
After VM is powered on, we will have a menu and we need to select Installation – Install Android – XX to harddisk;
Select Create/Modify partition;
Do you want to use GPT? Select No;
Create a new disk – Select New-> Primary – > Enter for default -> Select Bootable -> Write -> Quit;
On the next screen select sda1 -> Ok;
At Filesystem format select ext4;
Confirm formatting – Yes;
Install Grub – Yes;
Do you want to install EFI GRUB2 – Skip;
Do you want to install /system directory as read-write – Yes;
After the install is finished select Reboot;
After the restart is completed, press e key to edit the boot option;
Press e again on the first option – kernel…;
Delete quiet parameters using the mouse pointer;
After kernel we need to input nomodeset xforcevesa; This option is very important, otherise the Android will not start with graphics;
After inputting nomodeset xforcevesa we need to press b to boot;
After it booted, on the Welcome screen press Alt+F1 to open console;
Now we need to input the following commands:
mkdir 

/

mnt

/

sda
mount 

/

dev

/

block

/

sda1 

/

mnt

/

sda
vi 

/

mnt

/

sda

/

grub

/

menu

.

lst
19. After the last command a file will open; press i key so we can edit and write again nomodeset xforcevesa on the first line after kernel, exactly as we did on step 15;
20. Press Esc key and write :w followed by Enter key to write changes;
21. Write :q to exit the editor; Restart the Android and this should do it;
Below you can also find a video step-by-step tutorial:
This is the perfect solution to test certain apps or features which require Android OS. This tutorial applies also for newer Android versions. If you encounter any issues installing Android on a VM machine in VMWare, please leave a comment below and we will try to support.