Review TP-Link Archer AX20 AX1800
Archer AX20 is an AX1800, Wi-Fi 6 router, launched by TP-Link at the beginning of this year, capable of the new wifi standard 802.11ax but also WPA3 compatible. The router is dual-band, AX1800 (1200 Mbps on 5GHz and 574 Mbps on 2.4GHz).
This model is sold with an Ethernet cable which we will use to connect the router to our modem/fiber optic converter (ONT), if we have such an equipment from our internet service provider. Device is black and has 4 fixed antennas, it's wide but it doesn't look bad.
Everything in this article will be tested using a fiber optic 300 Mbps connection using a fiber ONT and a PPPoE line (username and password), without a static IP.
First things first, it's good to know that the ISP ONT can be set 2 ways, router or bridge mode. If we decide to keep it in router mode, then we need to set the TP-Link router in Dynamic IP mode, configuring it will be easier and all options will be active on both ONT and router. That means the ONT will keep doing NAT, wifi, PPPoE and other. Best practice is to set the ONT in bridge mode, so it will not have anymore wireless, PPPoE and other options active, it will just work as a fiber optic converter, and all these functions (including PPPoE) will be enabled on the TP-Link router. In this article we will present the second case, having all options enabled on the personal router.
Review TP-Link Archer AX20 AX1800
Installing and configuring this router can be done easily by following these simple steps:
Connect the Ethernet cable to the TP-Link router (WAN port) and to the provider device (LAN port). If we don't have such a device from the ISP, we will plug the WAN cable directly in the router, in WAN port.
Restart the provider's ONT/modem and wait for a few minutes to reboot
Connect the TP-Link router to a power outlet, power it on using the button on the backside of the router, wait for all lights to be on
Connect a second Ethernet cable to one of the router's LAN ports and to the PC
Proceed configuring the network through one of the following methods:

On the PC we connected to the router access on the browser IP 192.168.0.1 or tplinkwifi.net – we will have to choose an admin password which will be used to login to the router and select Let's get started – at Time Zone we select our time zone and hit Next – Select connection Type, here we select PPPoE + Next – input the username and password received from the provider and select Next – here we have a section to quickly setup the wireless networks and select Next – input the username and password received from the provider and select Next – testing the internet connection will start and it will take around 40 seconds – on the next section you may have an option to upgrade the device firmware (I had this option), either upgrade it (you can also do this later) or hit Skip – on the next menu we can login using the TP-Link Cloud Service and we have 2 QR codes for the wireless networks, we can select Skip and we will have the main status window
On a mobile device we download TP-Link Tether app, we open it – we login using the TP-Link account (if we don't have one, we can create it, it's easy to do) – select + – Router – Wireless router – then follow the steps seen on the screen to finish configuration, steps are basically the same we wrote above
Review TP-Link Archer AX20 AX1800
On the main menu of the router interface we have 4 main sections, as we can see below:
Network Map
Here we can find a few options regarding the router and connection status, we can see the router's MAC address and public IP, options to disable the wifi networks, CPU and memory usage, WAN and LAN status and a section to see the connected clients, where we find some details and where we can block any of the connected clients.
Internet
Here we only have the option of changing the WAN connection type: Static IP, Dynamic IP, PPPoE, L2TP and PPTP.
Wireless
Here we can enable or disable wireless related settings such as:
OFDMA – technology available on 802.11ax standard, it permits clients to send data on the same time improving speed and efficiency; connected devices must also support OFDMA
Smart Connect – this option which can be seen on more and more routers permits the router to use the same settings for both wireless networks (2.4 and 5GHz) and can assign connected devices in such way to optimise the available band; considering I am using the router for a small apartment, I did not enable Smart Connect to see how this works
Here we can also manage the wireless networks, compared to other routers I tested, we can disable 2.4 GHz network, keeping only 5GHz network running; on other routers I had the option of disabling 5GHz network but not viceversa
Guest Network – here we can enable or disable guest networks for both 2.4 or 5 GHz bands; if it's needed, we can allow guests to connect to our local network but this needs to be enabled in Advanced – Wireless – Guest Network
from security point of view, besides the usual WPA/WPA2-Personal or WPA2-Enterprise options, we can also enable WPA2/WPA3-Personal option
Review TP-Link Archer AX20 AX1800
Advanced
Here we have the most options and features we can manager on TP-LInk Archer AX20:
Quick Setup – using this option we can start again the initial setup process of the router
Network

Status – here we have some info related to WAN, LAN, DHCP and DDNS
Internet – setup a secondary connection, MAC Clone, NAT, Speed & Duplex negotiation of WAN port
LAN – some basic info related the router's LAN interface
IPTV/VLAN and some Multicast settings (IGMP Proxy, IGMP Snooping, Wireless Multicast Forwarding)
DHCP Server – as the name suggests, here we can manage the DHCP server, used IP pool, IP address reservations, etc.
Dynamic DNS – here we can configure TP-Link DDNS, No-IP or DynDNS
Routing – show and configure the routing table

TP-Link ID – here we can login using TP-Link credentials
Wireless

Wireless Settings – same settings as the ones seen on the main Wireless section + transmission power, used channel and wifi mode
Guest Network
Wireless schedule – we can schedule to automatically disable wireless network on certain days, between certain hours
WPS – on this section we have a short tutorial which we need to follow in order for this option to work, otherwise it will not be functional; also, we can connect via WPS using the settings here, whithout being mandatory to use the WPS button on the router;
Additional Settings

NAT Forwarding

Port Forwarding
Port Triggering
UPnP
DMZ

Parental Controls – using this feature we can manage the time online spent by a device, we can temporarily block the access with a click and we can schedule the time frame for which internet will work for some devices; also, we can filter URLs using keywords, however this will not work if the user connects via VPN;
QoS – for this option to work we need to enable, save and only then we will use the connected devices, we will be able to prioritize traffic;
Security

Firewall
Access Control – here we can blacklist or whitelist devices
IP & MAC Binding
ALG – all options here are enabled by default

 VPN Server
 IPv6 – this is not enabled by default, after enabling and connecting it should work fine
System

Firmware upgrade – here we can upgrade firmware, device was shipped with 1.1.0 but it had an upgrade available to 1.1.1
Backup & Restore – option to backup the router's config file, also here we can factory reset
Administration
System Log
Diagnostics
Time & Language
Reboot
Led Control
Operation Mode – wireless router mode or access point mode
Change wireless network name and password on TP-Link Archer AX20
SSID and password can be seen on the router tag, if we want to change this info we need to access the router interface and follow one of these methods:
Wireless –we have Network name (SSID) and Password – select Save after changing needed info
Advanced – Wireless – Wireless Settings
Install and configure OpenVPN on TP-Link Archer AX20
One of the options we have here and we can't find it on any router is the possibility to configure an OVPN server on the router, using a VPN connection we will benefit of packet encryption and the DNS queries will not be seen, not even by our internet provider. Usually, configuring an OpenVPN server on a VM or on a dedicated device is complex and requires some IT skills but one of the best advantages of this router is that most of the options are very easy to manage, especially this one.
To enable OpenVPN we need to follow these steps:
 On router's admin interface we select Advanced – VPN Server – OpenVPN – check Enable and select Save
We can leave the rest of the options as they are, on Client Access it's important to select Internet and Home Network if we want to encrypt also internet traffic
On Certificate section select Generate – this will take around 30 seconds after which we will receive a success message
Select Export and save the OpenVPN certificate
Install the OpenVPN client on the device we use (PC or mobile)
This step is recommended but not mandatory. If we don't have a static IP internet connection, then it's recommended to configure DDNS (we can use the one provided by TP-Link, will be explained below), by using a DDNS we will not have to update the certificate with the new public IP every time it changes. If we don't do this, when the public IP will change, VPN connection will not work until we update the IP on the certificate. We can edit the file with any text editor (e.g Notepad) and on remote section, instead of the IP address, we can type the domain name we have.
After installing the OpenVPN client, import the certificate we saved earlier
Connect, this is done without requesting a password
Important! If connect via VPN does not work, disable Windows firewall and antivirus and then try again. If it works, then the selected OpenVPN port (by default it's UDP 1194) is blocked by the firewall or antivirus, so we need to allow it by configuring a separate rule. In my case, port was blocked by the Windows firewall although the same port (UDP 1194) was working with another certificate and another OpenVPN server.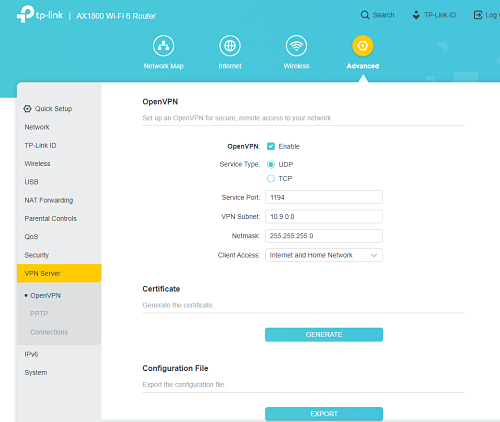 Review TP-Link Archer AX20 AX1800
I did not test the connection via PPTP but it's a shame to use it as long as we can use OpenVPN, as this last one is much safer from a network security point of view.
Configure port forwarding and port triggering on TP-Link Archer AX20

Port forwarding can be configured by following the steps below:
Select Advanced – NAT Forwarding – Port Forwarding – Add
Service Name: set the name of the rule
Device IP address: type the LAN IP of the device we want to open a port to internet
External port: type the external port used
Internal port: type the internal port used (80 for HTTP, 22 for SSH, etc.)
Protocol: select All if we don't know exactly if TCP or UDP is needed
Save
We can configure port triggering as follows:
Select Advanced – NAT Forwarding – Port Triggering – Add
Service Name: set the name of the rule
Triggering port: internal port
Triggering Protocol: select All if we don't know exactly if TCP or UDP is needed
External port: external ports we need, here we can configure a port range or port pairs External Protocol: select All if we don't know exactly if TCP or UDP is needed
Save
How to configure DDNS TP-Link Archer AX20
This useful option can be configured as follows:
Select Advanced – Network – Dynamic DNS – login with the TP-Link ID – at Service Provider select TP-Link – Add – type the domain we want to have – Save – below we will have the domain we chose.
For this to work, both ONT/modem and router need to be rebooted.
How to manage USB devices via FTP or SAMBA
Managing USB devices can be easily done, after we plugged in the external device to the USB port, the dedicated light will turn on. Then, select Advanced – USB – USB Storage Device – here we should have the new USB device – if it will not be shown by itself, select Scan.
To access this device via FTP, we need to access ftp://192.168.0.1:21 (or use an FTP client such as FileZilla on WinSCP) and for Samba access \\TP-Share. If we configured the domain name for DDNS, here we can also enable Internet FTP, which is disabled by default.
To secure FTP connections, we just need to enable Secure Sharing, then we will have username and password we can use for FTP access (of course, credentials can be changed as we wish).
TP-Link Archer AX20 ports
1xWAN
4xLAN Full-Gigabit
1xUSB 2.0
1xPower
Internet speed test TP-Link Archer AX20
I made several speed tests using this router and a fiber optic connection of maximum 300 Mbps download, directly via Internet or connected through VPN (both router's OpenVPN but also through a dedicated OpenVPN on a Raspberry Pi). Via cable, the test was made also using a Mercusys switch.
Device
TP-Link Archer AX20
PC (LAN)- i5/16GB RAM/SSD
285.31 dw / 156.26 up
Xiaomi Redmi 9T Pro (next to the router)
2.4GHz: 93.2 dw / 64.3up
5GHz: 241 dw / 188 up
Xiaomi Redmi 9T Pro (next room, 10m away)
2.4GHz: 84.5 dw / 52.8 up
5GHz: 232 dw / 183 up
Connected through OVPN, we had the following speed:
OpenVPN router Archer AX20 – 47.27 Mbps download and  56.28 Mbps upload
OpenVPN Raspberry Pi – 79.89 Mbps download and 71.40 Mbps upload
I did not have the chance to test speed with a Wifi 6 device.
Review TP-Link Archer AX20 AX1800
Here are the main pros and cons when using router TP-Link Archer AX20 after using it for a few days:
 very good 5GHz wireless speed

wireless schedule option to automatically disable the wireless network at night 

enable WPS from router admin interface 

detailed parental control and very easy to manage, we can even see the browsing history for certain devices 

saving each option is done almost instantly, even generating an OpenVPN certificate is done pretty fast

easy and fast way to configure DDNS

low speeds on 2.4GHz network

not being able to have different levels of traffic shaping (high, medium, low)

USB 2.0
TP-Link Archer AX20 AX1800 price
When this article was published, the price of this router is around 125$.
As a conclusion, TP-Link Archer AX20 AX1800 is a dual-band, quad-core 1.5GHz, Beamforming router with a fair price, having 2 strong points: very good 5GHz speeds and OpenVPN which can be easily managed. The cons I wrote above are not significant, however we will update this article if something else occurs after a longer time of using it.
If you have problems when installing and configuring this device, no matter the internet service provider you use, leave a comment below sending us as many details as possible and we will try to support.
Also, if you already have this model, what is your opinion about it?